Shower bathing device for nursing care (swing nozzle type)
DS-3300-A Dream Shower
Auto Shower system considered from the point of view of caregivers and care receivers.
Dream shower features full-automatic operation, optimum temperature control, reducing the burden on the caregiver, speedy shower bathing, and above all, warm-heartedness between caregivers and care receivers. Comfortable, efficient whole-body care can be provided.

Both shower bating and cleaning bath can be automatically performed, and also, this design prevents infection in facilities.
The average amount of water used per person is about 80 litters, which is economical, energy saving, and contributing to cost saving.

Because it is reliable fully automatic, shower time with tenderness and warmth will be realized.
It automatically performs a washing(body shampoo), rinsing, and lotion cycle, and the optimum temperature can be adjusted by thermo mixing valve. It greatly reduces the burden on caregivers and ensures that the bather can enjoy a speedy and relaxing shower bath.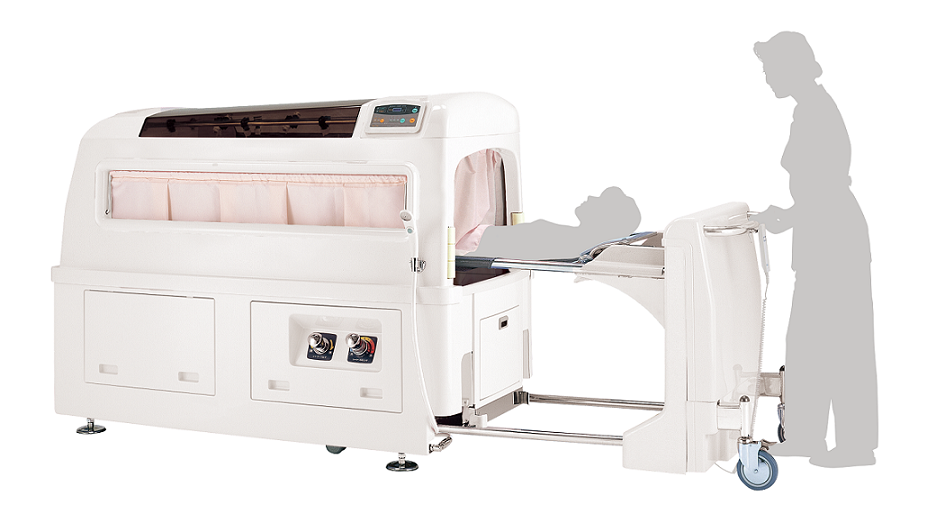 AUTOMATIC SHOWER SYSTEM
START ⇒  Body Shampoo ⇒ RINSE ⇒ LOTION ⇒  FINISH

You can select a washing process (rinse only, body shampoo and rinse, or lotion only) by the operation panel.
The water temperature can be adjusted easily.


◎Smooth wash and comfortable stimulation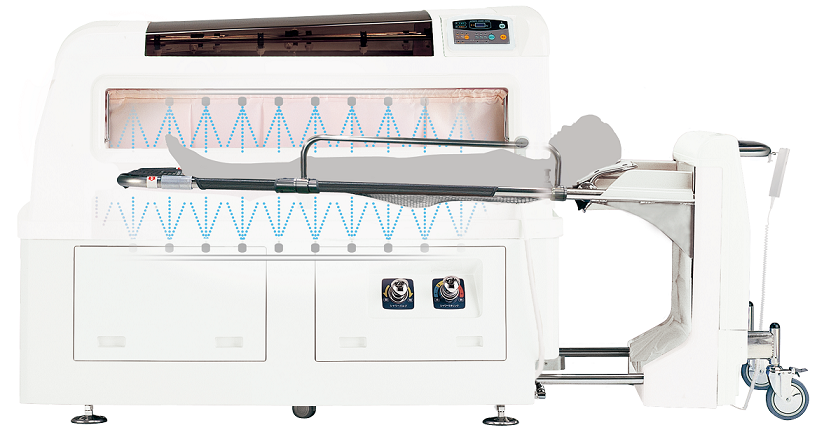 The shower nozzle is a swing type, which washes the whole body smoothly, so that prewash is not necessary. Because hand wash labor is reduced, the burden of the caregiver is lightened accordingly. Also, the intensity of shower is changed while in use. It gives the bather an excellent bathing and massage feel. Adjusting the optimum temperature and choosing the washing process can be performed by the operation panel. Also, utilizing the cleaning nozzles cleans the bath in every corner.

| | |
| --- | --- |
| Washing with comfortable water pressure and water quantity | 17 nozzles for whole body |
◎Full caring function with hand warmth

Easy hair washing
Not only shower bathing but also hair washing can be carried out easily and speedily. The detachable hair washing tray equipped on the stretcher allows hair washing during shower bathing. The hand shower can be switched on and off by hand.
Care windows for washing bather's body
While checking the bather's condition through the observation windows, the caregiver can reach out through the care windows to partially wash the bather's body. It ensures a safe and comfortable bathing time.
Head rest
The angle of the head rest can be adjusted in 2 levels and fixed by a lever.
Excellent stretcher net
Since the net of the stretcher is high quality russel mesh, the shower from the lower nozzles can be easily applied to the back for efficient washing of the entire body.

◎One-touch automatic cleaning
The bathtub can be cleaned very easily through a one-touch control. The bath cleaning nozzles swing right and left to clean and sterilize every corner of the bathtub. There is a safety function installed, which prevents the automatic cleaning device from operation when there is someone inside the bath.

Because the bath cleaning nozzles and body shampoo nozzles are different , the sterilizer liquid is not applied to a bather.
It prevents infection.
Always clean the bathtub with disinfection
Stretcher, net, mat, curtain etc. can be disinfected at once by swing nozzle, and it always keeps cleanliness and hygiene.
Easy supplying of body shampoo, bath cleaning liquid, etc.
All bottles of body shampoo, lotion, bath cleaning liquid, sterilizer liquid are located in the lower part of the bath and can be drawn out easily. Also, shortage of the supplies is indicated by flickering of the lamp. Users are saved from the trouble of checking the remaining quantities.
  Easy drying curtains
Removable charging battery
It is cordless without anxiety of disconnection. The state of charge can be confirmed and the remaining capacity of the battery can be checked.
 
Power source
AC100V~220V 50/60Hz
Power cunsumption
50VA
Materials
FRP for body   SUS304 for frame
Shower nozzle
9 units upper / 8 units lower : full swing type
Bath cleaning nozzle
6 units upper / 6 units lower : full swing type
Shower flow volume
20 liters/min approx.
Temperature control
Thermo mixing valve
Temperature setting range
35℃~45℃
Ourter dimensions
L1900xW1020xH1500mm
Weight
140Kg approx.
Safety device
Shower stop device for abnormal temperature
Abnormal temperature indicator
Alarm
Standard features
Shower mixing x 1
Hand shower x 1
Body shampoo ejection device built in
Bath cleaning / sterilizer liquid ejection device built in
DS-3300S Standard Stretcher
Adjustable head rest and detachable hair washing tray are standard equipment. It supports comfortable shower bathing.

Materials
SUS304 for frame FRP for hair washing tray
Polyester mesh for net
Outer dimensions
L2200 x W680 x H935mm
Weight
50kg approx.
Accessories
Safety belt x 2
Mat for back x 2
Net for shampoo x 1
DS-3300S Standard Stretcher
It is rechargeable electric type stretcher. The elevating stroke is 330mm, and the lowest position in the center of the net is 490mm, which reduces the burden of transferring the bather. Water receiving tray is also standard equipment.
Hand switch
The display is large and easy to see. It can operate the stretcher up and down by remote control.
Power source
DC24V (battery)
Elevator
Electric cylinder
Materials
SUS304 for frame FRP for hair washing tray
Polyester mesh for net
Outer dimensions
L2420 x W680 x H980mm
Elevating stroke
330mm approx.Height of net (center): 450~780mm
Weight
100kg approx.
Accessories
Safety belt x 2
Mat for back x 2
Net for shampoo x 1